Catering Menu
In addition to our food truck operations, Strudelteig operates a catering kitchen delivery service for the greater Charlotte, NC area.  All products are delivered in bulk disposable food service containers and/or bakery boxes. Once you have decided what you which items work best for your event, please use the order form on our website. Thank you!
Cold-cut Pretzel Sandwich Platter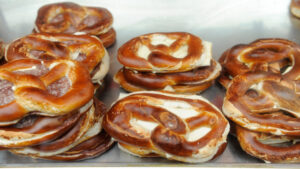 Cold Cut sandwiches, made from our own scratch-made Bavarian-style pretzels, with Italian meats and European cheeses. (12 sandwiches). $125
Chicken Schnitzel Pan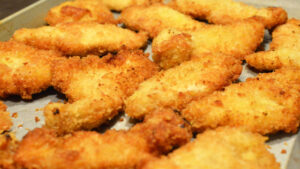 Free-range, jumbo chicken breast, hand-hammered, panko-breaded, and deep fried. Schnitzel-style! (8 servings). $79
Bratwurst Burgers Platter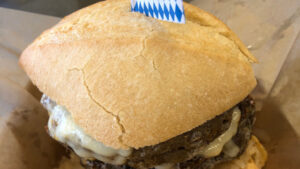 Our own 1/2 lb. burgers, made from scratch with 100% NC ground pork shoulder and Bavarian-style mountain herbs. Served on a fresh baked kaiser roll. (10 burgers). $95.
Chicken Schnitzel Po' Boys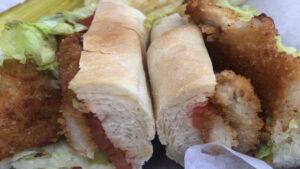 Chicken-eater's twist on the classic German fried cutlet, with added Cajun flavor, served Po' Boy-style, with shredded lettuce and tomato. (10 sandwiches). $135
Artisan Swedish Meatballs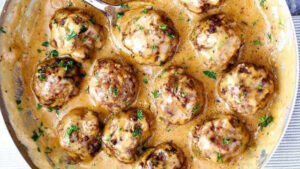 Traditional Swedish-style pork and beef meatballs, ground fresh in our kitchen. Served in a rich, creamy beef sauce. (32 meatballs). $85. Mashed Potatoes also available to match portion size. (+$39)
Pork Schnitzel Parmesan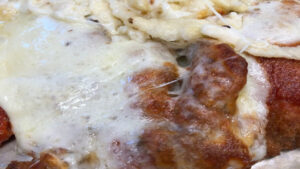 Our own hand-hammered, over-sized, Austrian-style pork schnitzel in a pan, baked with marinara sauce, mozzarella and parmesan cheeses. Dusted with herbs. (8 servings). $139.
Schweinebraten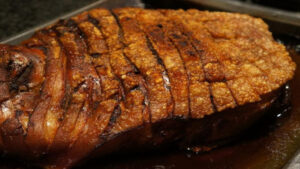 Schweinebraten. Germanic-style roast pork shoulder, slow-roasted and smoked with crackling skin atop. Excellent paired with sauerkraut, knödel or mashed potatoes. Large roast (10 servings). $129
Italian Meats Strudel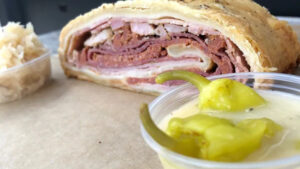 Italian Meats Strudel. Austrian-style strudel dough, baked with Sweet Capicola, Salami, Pepperoni, Olive Oil & Herbs. (5 servings).  $49
Tiroler Grostl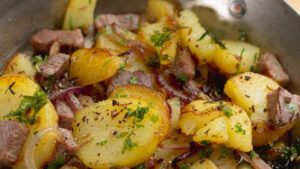 Austrian-style, 'Après-ski', potato, onion & garlic hash (with mountain herbs), browned to perfection. (10 servings). $52.
Schweineschnitzel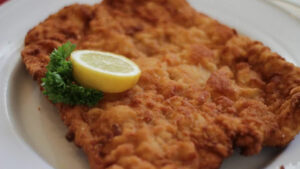 Our own hand-hammered, over-sized pork schnitzel, with lemon wedges on the side. Austrian simplicity at it's finest! (8 servings). $119.
Sauerkraut Pan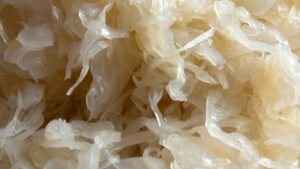 Authentic Viennese recipe, brine removed and infused with apples. Not tart! Excellent paired with Bratwurst, Schweinebraten, etc. (10 servings). $49
Spätzle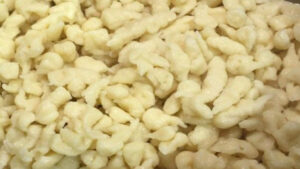 Austrian-style 'pasta-dumplings', uniquely made by drop-boiling. (8 servings). $59. *Cheese Spätzle, add smoked meat, chopped sausages, etc. are available for additional charge).
Breakfast Pretzel Sandwich Platter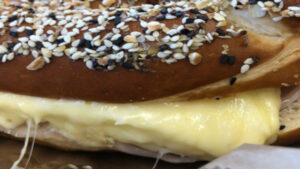 Scrambled Egg and Cheese sandwiches, made from our own scratch-made Bavarian-style pretzels. Your choice of Swiss or Muenster cheese. (10 sandwiches). $95.
Karrottensalat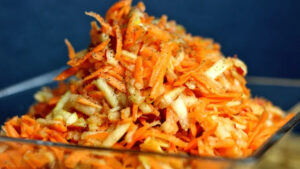 Austrian-style shredded carrot salad, uniquely made with lemon juice, vinegar and oil (no mayo). Excellent paired with Schnitzel or Bavarian Pretzels & Bratwurst. (12 servings). $39.
Imported Bavarian Bratwurst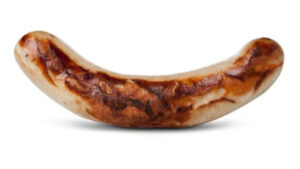 Authentic Germanic sausages, with smooth texture and herbal flavor profile. Roasted to perfection. (24 sausages). $135.
British Beer Battered Bangers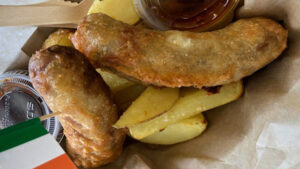 British-isles traditional soft, melt-in-your-mouth, mild pork sausages, dipped in beer batter and deep fried to crispy bliss! (20 Bangers / 10 Servings) $95. (Pub chips also available to match portion size). (+$59).
Wild Salmon Strudel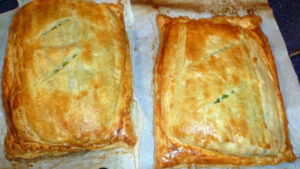 Wild Alaskan Salmon and cream-cheese-basil Pesto, baked inside our own proprietary puff strudel dough. 'Salmon En Croute' from accross the border! (5 servings). $89
Red Cabbage Salad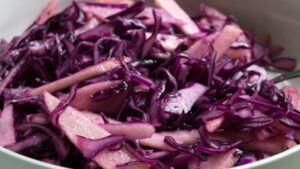 Austro-Hungarian-style, red cabbage salad, with shredded apples in a vinegar base. A beautiful side dish to just about anything we offer. (15 servings). $49
Ceasar Salad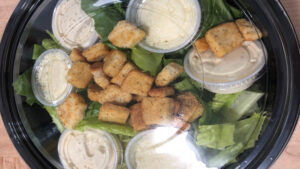 Our own, fresh-cut, Romaine-heart salad, served with Croutons, Caesar Dressing and Grated Parmesan. (3 Servings). $19
Garden Salad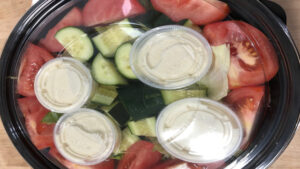 Our own, fresh-cut, Iceberg salad, served with Tomato, Cucumber and Ranch Dressing. (3 Servings). $19